What is COMPUSHIFT?®
COMPUSHIFT® Is A Revolutionary, State Of The Art Product Designed By HGM Electronics. Compushift A ECM (Electronic Control Module) Will Control The Shift & Converter Clutch Lock Up For The 4L80E, 4L60 E & the 4R70W. Compushift Is Fully Programmable And User Friendly. Putting An Electronically Controlled Model Transmission Into A Street Rod, Truck, RV Or

Any Non-Overdrive Vehicle Was Never So Easy.
Comes with complete instructions in a comprehensive manual.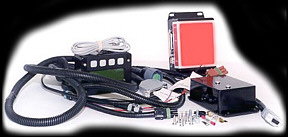 APPLICABLE TRANSMISSIONS
GM - 4L80E - 4L60E
FORD - 4R70W
For Tech Support, Questions, Call:
928-453-4020

[Home] [Performance Products] [Internal Parts]
[Performance Converters] [New Products] [TCS Racing]
[About] [Contact Us]
[Virtual Tour]